English
中文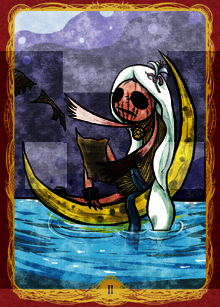 故事 Story
『她只有留下,或者捨去兩個極端。』
女教皇以月為椅、湖為家,她一手決定「是」、一手決定「否」, 每個生物都來到湖畔尋求她的智慧,卻從來沒有人為她留下。
她倚靠月亮,沒有表情的自己,選擇這樣子的寂寞。
"To stay, or abandon the two extremes."
"The high priestess" sits on the moon, living beside the lake. One of her hands represents "positive', and another one represents "negative".
All the creatures come to her, seeking for her wisdom, but no one choose to stay with her. She leans on the moon, facing the loneliness which she chose with an ice-cold poker face.
正位 Strengths
智慧、卓越的感受力、平靜安穩、知性美。
冷漠、精神戀愛、隱藏深處的力量。
聖潔的象徵、學者、占卜師、年紀較為年長。
Wisdom. Understanding. Serenity. knowledge.
Icy. Platonism. Interior power.
Holy. The scholar. The prognosticator. The elder.
逆位 Weaknesses
無知、沒有遠見、不好學、無法平靜內心、無法面對事實。
單相思、難以實現的戀情、肉體的需求。
Unintelligent. Near-sighted. Lack foresight. Ignorant.
Restless. Can't face the fact.
Unrequited love. Arduous relationship. Carnal desire.