English
中文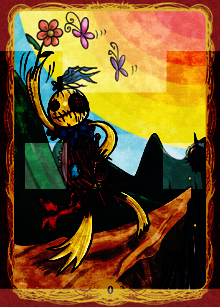 故事 Story
『自己的路我自己選!』
愚者就像是新生兒,世界對他而言是未知,他懷著樂觀天真的態度走向人生的旅途。
卻不知道社會的險惡,還在悠哉的時候,或許就會摔下山谷、粉身碎骨。 如果能夠摔一跤而理解現實,或許接下來的路途會好走得多。
「I chose my own way!」
"The Fool", like a newborn, everthing's new to him. He start his journey optimistically, knowing nothing about the peril on the path through life, nearly pay for his ignorance.
However, this fool might realize the reality and find the life easier to go after a great fall.
正位 Strengths
新的開始、新契機、出發!
活力樂觀、率性、無辜、天真。
Beginning. New opportunity. Travel. Optimism. Energetic. Imagination. Innocent.
逆位 Weaknesses
看清現實、受到挫折、找不到方向。
愚蠢、賭性堅強、三分鐘熱度、容易被欺騙。
Don't have unrealistic expectations. Setbacks. Can not find your way.
Stupid. Impulsiveness. To give up halfway. Easily deceived.